Assante Group of Seven Wealth Advisors sponsor the most successful Moonlight Gala to date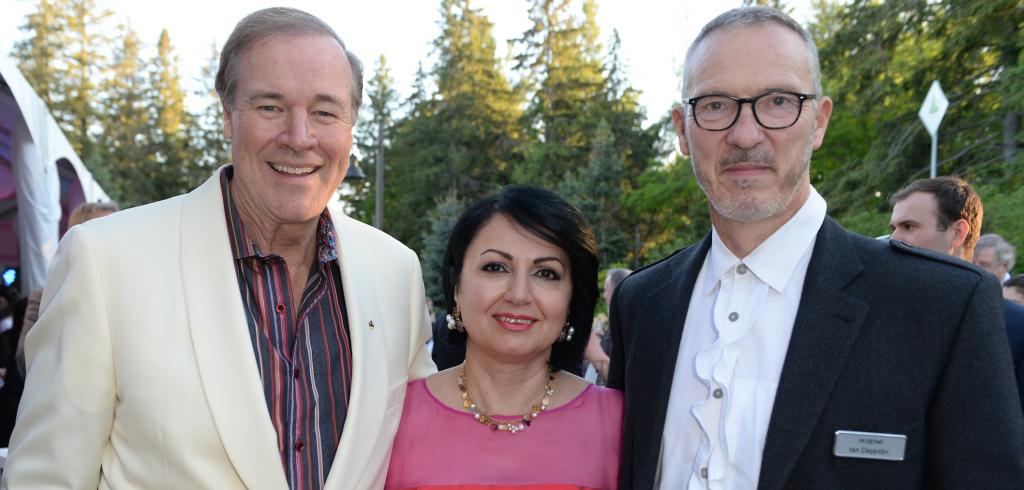 From left to right: Ken Shaw (Co-anchor, CTV News), Tina Tehranchian (Chair, McMichael Moonlight Gala 2017), Ian Dejardin (CEO, McMichael Canadian Art Collection).
The McMichael Canadian Art Collection is excited to announce that its signature fundraising event – Moonlight Gala 2017 – has raised in total over $675,000 toward the conservation and preservation of more than 6,000 Canadian artworks in the McMichael's permanent collection. Presented by CI Assante Wealth Management Group of Seven Wealth Advisors, the sold-out event on Saturday, June 3, 2017, hosted 700 guests and took place on the McMichael's spectacular grounds, which were transformed into a glamorous outdoor party for an evening of dining and dancing under the stars. CTV News Toronto co-anchor Ken Shaw hosted the evening.
An historic celebration, Moonlight Gala 2017 marked the meeting of three important anniversaries: Canada's 150th birthday, the commemoration of Tom Thomson's passing 100 years ago, and the conclusion of the McMichael's 50th anniversary.
Each year the Moonlight Gala raises much-needed funds for the McMichael's permanent collection, ensuring that the McMichael continues to thrive for decades to come. As the only art gallery devoted to collecting Canadian art, the renowned McMichael's permanent collection includes works by some of Canada's most iconic artists, including Tom Thomson and the Group of Seven.
"It has been a great pleasure and honour for me to chair this historic Moonlight Gala for the McMichael," said Gala Chair, Tina Tehranchian. "I am deeply grateful to our sponsors, who have made the gala such a great success, and to our outstanding committee, Kim Good, and the awesome development team at the McMichael. What makes this gala extra-special for me is the fact that the CI Assante Wealth Management Group of Seven Wealth Advisors have formed a record-setting partnership with the McMichael. I thank my Assante colleagues and the executive management team at Assante for their generous support of the McMichael Canadian Art Collection," added Tehranchian.
Guests of Moonlight Gala 2017 were wowed by a culinary extravagancy, a live auction, and spectacular performances by leading Canadian artists Rik Emmett & the Guitar Circle (Dave Dunlop, Calum Graham, Brooke Miller, Don Ross and Emma Rush), the dynamic Montreal Rhapsody Orchestra, Humber College Musicians, and a special ensemble performance by five of seven world-renowned guitar makers from The Group of Seven Guitar Project exhibition.