The Beacon Group of Assante's Illumin8 concert series puts a spotlight on the Calgary jazz scene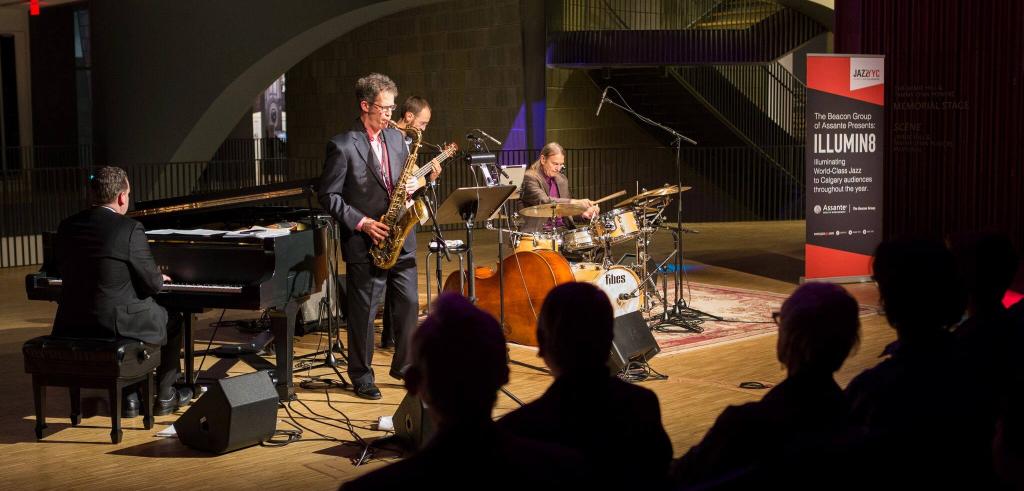 From left to right: Tony Foster (Piano), Anton Schwartz (Saxophone), Adam Thomas (Bass & Vocals), and Dan Brubeck (Drums) of the Dan Brubeck Quartet. 
Greg Snider and The Beacon Group of Assante Financial Management Ltd. have partnered once again with JazzYYC to sponsor the 2017-2018 Illumin8 concert series in support of the growing jazz culture in Calgary. The eight-concert series started in September and will run through to May at venues throughout the city, showcasing traditional, historic, contemporary and vocal jazz.
The series features iconic Canadian jazz musicians including Grammy and Juno award winners, as well as top jazz influencers from New York and Europe. So far, performers have included Juno-winner Dan Brubeck of the Dan Brubeck Quartet, and the Robi Botos Trio with Grammy-winning drummer Larnell Lewis and Juno-winning bassist Mike Downes. In addition to the concerts, The Beacon Group is co-hosting several exclusive receptions for the organization's top supporters, performers and their guests.
"There is a distinction between the charity work we love and this unique sponsorship role. With charities, we give them some of what they need to do their work, and with sponsoring JazzYYC, we get onboard at the grassroots level participating in the community they are nurturing," said Greg Snider, Senior Financial Planner at The Beacon Group. "It has been rewarding to get involved as a core sponsor, and now as an active board member, to promote this vital part of our culture while building quality relationships."
The Beacon Group first sponsored the series in 2016-2017, after Greg Snider met JazzYYC President Debra Rasmussen and saw an opportunity to provide quality sponsorship for the jazz collaborative. It was Greg's goal to cement the organization's sustainability and increase its collaboration with professional musicians, students, and music venues across the city. Together, their mission is to provide the education and support services needed to foster a vibrant jazz community in Calgary.