Captain's Tournament raises $139,000 with help from Assante Québec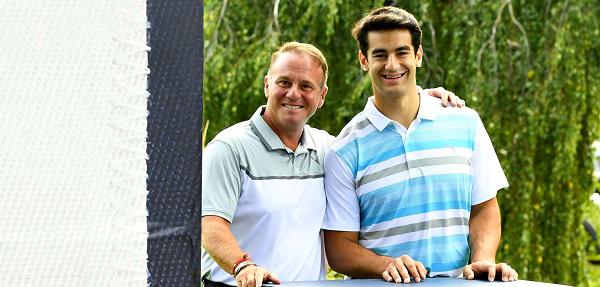 Seven years ago, Max Pacioretty, former captain of the Montreal Canadiens, suffered a severe concussion and broken vertebra during a hockey game and was rushed to Montreal General Hospital (MGH). After he recovered, and grateful for the care he received, he created the Max Pacioretty Foundation with the goal of raising $3.5 million for the Traumatic Brain Injury Centre at MGH. This money will go towards funding research and purchasing an ultra-high-resolution functional magnetic resonance imaging (fMRI) scanner for the Traumatic Brain Injury Program at MGH.
On August 28, 2018, his foundation organized the Captain's Tournament at La Vallée du Richelieu Golf Club in Sainte-Julie, Québec, which he hosted. Peter Pomponio, President of Assante Dorval, was one of the co-captains of the golf tournament. Assante advisors brought clients to participate in the event.
The day included a cocktail reception, silent auction, skills contest and celebrity meet and greet with members of the Canadiens organization. The teams were organized as fivesomes with each team having an NHL player, coach or celebrity.  The VIPs included owner and president Geoff Molson; general manager Marc Bergevin; head coach Claude Julien and his staff; and players Jonathan Drouin, Jeff Petry, Phillip Danault, Paul Byron, Charles Hudon, Nicolas Deslauriers and Xavier Ouellet.
Peter, a close family friend of Pacioretty's for almost a decade, is very appreciative of the Assante advisors and clients who supported this cause so generously. This year's event raised $139,000, with half going to the Montreal Canadiens Children's Foundation to help underprivileged children and half to MGH.
"When Max suffered a serious on-ice injury in 2011, he came out of it very determined to become a better hockey player and to be more involved in the Montreal community," Peter said. "The Pacioretty Foundation's main mission is to raise money for both advanced diagnostic machinery and research into head injuries at the Montreal General Hospital. Assante and I are honored to have been part of this journey with Max since Day One. I am pleased to announce that we will complete funding for the diagnostic equipment this year, providing state-of-the-art care for head trauma injuries in our city."
The Montreal Canadiens Children's Foundation seeks to promote teamwork, healthy lifestyles and sport infrastructures for children aged four to 17 in underprivileged neighbourhoods.
The Traumatic Brain Injury Centre, a joint venture of the Montreal General Hospital and McGill University Health Centre, is a world leader in concussion research and treatment.