North Bay branch sending local athlete to Special Olympics Canada's summer games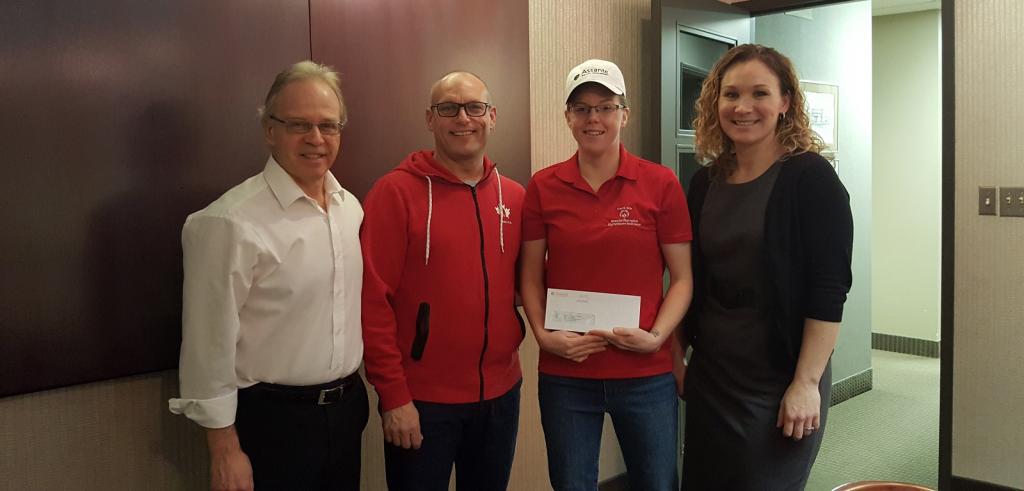 From left to right: Robin Danielson, Glenn Cundari, Mandy Demerse, and Julie Gauthier
This summer, Mandy Demerse, a 29 year old Special Olympic athlete in North Bay, is heading to the Special Olympics Canada 2018 Summer Games with the support of the Assante 101 McIntyre branch. The local Assante branch will sponsor Mandy as she competes in the golf tournament in Antigonish, Nova Scotia, from July 31 to August 4.
This sponsorship is the latest since Assante 101 McIntyre got involved with Special Olympics North Bay after Client Services Representative Julie Gauthier approached the branch's Thomson Financial Partners of Assante Capital Management Ltd. Julie was previously a coach with the North Bay chapter, primarily with its baseball team that Thomson Financial Partners sponsored when it qualified for the Provincial Games in Windsor, Ontario six years ago. Now the entire branch is committed to helping Mandy compete in the sport she loves and has been playing with her father since she was 15.
"When you meet Mandy, a few things become very clear," says Robin Danielson, Branch Manager at Assante 101 McIntyre. "She's very passionate about golf, highly team oriented, equally humble and driven, and possesses an inner strength for her craft."
"These are all traits that will serve her well in life, as well as at the Canadian Special Olympics this summer. We at Assante 101 McIntyre are very proud of Mandy and could not think of a better person to represent North Bay and Ontario alike."
For decades, Special Olympics Canada has optimized the benefits of a healthy and active lifestyle through sport to improve the well-being of individuals with an intellectual disability. This mission is furthered by local chapters like Special Olympics North Bay, which develop, promote and guide athletes in a lifetime of activities, and offer programs in which participants can safely achieve their own goals and potential.
If there is one thing Assante 101 McIntyre and others involved in Special Olympics in Canada have found, it's that the opportunity to train and compete at a higher level lets participants not only develop their physical fitness, but increase their self-confidence as leaders in their community.