Sarnia branch fundraiser generates over $50,000 for youth programs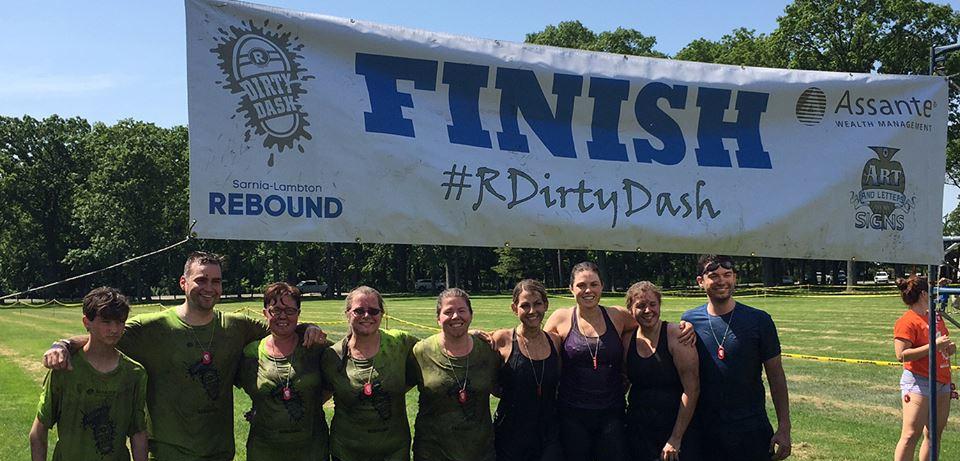 Working hard and digging deep is no strange task for the Sarnia-Lambton Rebound community, which is why the mud and obstacles at the third annual "Assante Dirty Dash for Rebound" were a welcome challenge as it raised over $50,000 towards Rebound's programs and services for at-risk youth in the region.
The Assante Dirty Dash for Rebound is sponsored by the Sarnia branch of Assante Capital Management Ltd. and has raised a total of $135,000 since its inception. One of its key coordinators is Associate Financial Advisor Justine Vanos, who got involved in Rebound through her mother.
"We wanted to, as an office, get together and give back to the community while having fun at the same time," says Justine. "It's not your typical charity event; everyone gets involved, from individual volunteers to local business owners. It really brings the whole community together in support of our youth."
Over 900 participants attended this year's dash, which consisted of a muddy five-kilometer obstacle course through Canatara Park. Situated next to the lake, the park offered a beach, field and forest scenery for racers to run, jump and crawl through with enthusiasm.
Rebound is a leading organization in the prevention and early intervention of at-risk youth in the Sarnia-Lambton area. What started as a grassroots model has since built a 30-year history and 22 programs for youth aged eight to 24. Programs include anti-bullying, substance abuse prevention, and "safe space" centres like the Hub, where youth can spend time, have a hot meal and get access to counsellors at no cost.
The philosophy behind Rebound is based on care, and the staff and volunteers help out in any way possible to share this message and ensure the well-being of young people and their families. By working together they dig down to the core issues facing youth so they can overcome any obstacle. As Rebound puts it, "Life is too short to worry about clean fingernails."